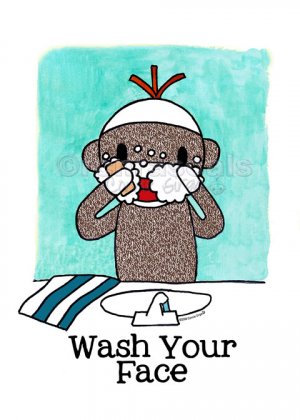 Credit to http://www.ecrater.com/product.php?pid=5282621
When L'oreal launched their new "Go 360deg Clean" in Jan this year, I was intrigued.
 credit to Nouveaucheap
The scrublet that came with it was just so interesting. I wanted to try it but refused to ante up the funds to buy the cleanser. I rarely change brands once I've found one that works for me.
So on a recent foray into Daiso – that gloriously horribly wonderful SGD2 store – I saw this. Yeah, I know I'm probably super late in getting one but here's my review anyways. :P
This pic is from Mag @ MakeupStash. She reviewed it way back in Sept '09. *whispers… see how late I am??*
There was a newer version available close to the cashier but I chose this one cos I liked the tip on it that would enable me to get into the nooks and crannies of the nose area.
The way I use it is to apply my cleanser all over (after using a m/u remover to take off my eye m/u). I use my fingers to lightly massage it in then pick up my scrublet. With gently pressure, I go over all over my face. Including my eyes. The scrublet is soft enough to handle that area without pulling or tugging the delicate skin. Usually I pay extra attention to my crisis zones – nose and area around – and put a little more pressure there. I've never had irritated skin as a result of this.
For me, its proven to be a lovely light massaging tool that effectively clears my pores. Better than if I just used the cleanser solo. I can really see a difference in terms of how much junk is not in the pores. Even my 'permanent resident' blackheads have grown smaller and are much easier to squeeze out. My skin always feels cleaner… not squeaky clean but firm and clean. You really gotta try it to understand what I'm babbling about.
For $2, this is an invaluable tool that I'm not planning to do without. Already have plans to head down and get another one for my other toilet so I don't have to go hunt it down whenever I change rooms.
Even got my hubby to try it and for once he's willing to say "I use it every now and then". Trust me, this is a guy who uses the same soap for his entire body and face! So I'm guessing he sees or feels some difference.
Let me know if you've tried this and what your experiences are with it… would love to hear about them!